"What is a 'Missions partnership?' A very different, yet very Biblical approach to doing missions. At WAC we want to do more than just give our money and prayers to the mission field, but even ourselves. We believe that the Good News will travel faster and deeper into the world as the relationship between local churches and missionaries grow deeper. Our partnership with Paraguay is a commitment to fostering a long-term friendship with the field directors, missionaries, and national church leaders in that country. It is a commitment to enter into their calling and to assist them in every conceivable way of making disciples of that nation."
Click on the names below to learn more about our missionaries.
Bob & Joy Brougher
We (Bob and Joy) arrived in Asuncion, Paraguay on August 22, 2009. We have been missionaries with The C&MA since 1987, having gone to language school in Costa Rica, then to Bogota, Colombia for 16 years. Following Colombia we transitioned to Caracas, Venezuela, where we stayed for four years. In both Colombia and Venezuela we served as church planters and Bob as field director.
We believed that our service in Latin America had come to a close when we received a call from our Latin American Regional Director (Bill Mangham), asking us to consider going to Paraguay! After much prayer we decided the end of May to go to our third Latin country, again as church planters and Bob as field leader. What a joy to be here and a part of all that God is doing.
We have four adult children, two sons-in-law and two grandchildren. We praise God that all our children are following Christ and serving Him.
Bruce and Sylvia Harmon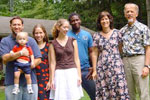 We have been missionaries with the Christian and Missionary Alliance since 1980, first in The Philippines and since 2007 in Paraguay. Our two grown daughters live in Pennsylvania and our son Caleb recently graduated from Alliance Academy International, Quito, Peru. We are working alongside a seasoned Senior Pastor, originally from Argentina, and an experienced missionary couple who recently arrived from Chile. We are involved in visitation and discipleship ministries to build the church into an aggressive church-planting and missionary-sending force.
John and Lisa Sappia
Having grown up in New York City and Mendham, NJ, we met at Nyack College. After graduation we married and moved to Florida to start seminary and to work in Youth Ministry. God used our love for missions to help us launch a short-term mission's program at our church in addition to the supporting of missionaries through prayer and the Great Commission Fund. After 13 years of ministering to teenagers in Florida and Pennsylvania, God began knocking on our hearts. Ironically, it was through using John's brother (Jim Sappia – C&MA Missionary to Thailand) that God called us to serve overseas. He then began to open up door after door in order to prepare the way for us to go to Paraguay. And so, here we are, living in Asuncion, Paraguay. We spend most of our days in wide-eyed amazement at the changes, challenges, and chances that we have been given to make a difference in the lives of the good people that live around us.
Forest and Sarah Schell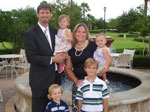 After graduating from Toccoa Falls College, we moved to Fort Myers, Florida, where Forest served as youth pastor at Park Alliance Church and Sarah taught 1st grade in the public school system. In 2001, God provided an opportunity to become church planters with the C&MA. With a few suitcases and our 16 month old son, Caleb, we left the US and headed to Costa Rica to study Spanish. Now, with our sons Caleb and Josiah, and twin daughters Kate and Lauren, we are planting churches in Asuncion, Paraguay. Working alongside national pastors, we are using various ways to grow the church such as basketball with bankers, teaching English, Awana program for kids, and other kindness outreaches.